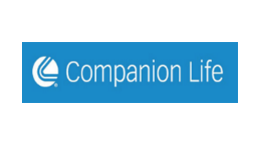 Companion Life Insurance Company has specialized in employee benefits for more than 35 years. As the years have passed, the company has changed along with its customers. It has added a variety of insurance products and services to its portfolio. It currently markets insurance products in 45 states and the District of Columbia.
The company's most explosive period of growth has occurred over the past eight years, as it enhanced its product line.
The mission of Companion Life Insurance Company is to be a well-managed, customer-focused organization acting in the best interests of its policyholders and marketing partners, operating on a financially sound, growing and diversified basis.
Companion Life has earned an A.M. Best rating of A+ (Superior) and a Weiss Rating, Inc. rating of A- (Excellent).